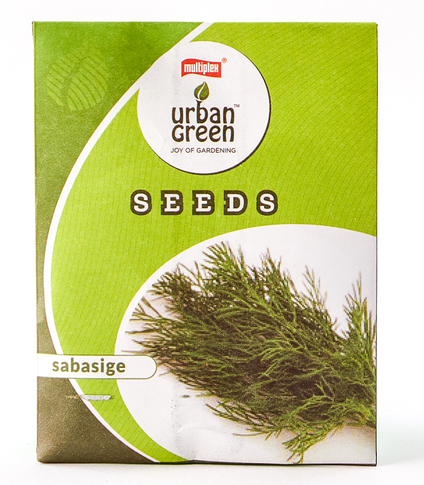 DISCLAIMER Images may differ from the actual product
Enter your delivery pincode to check on product delivery
Sabbasige Seeds
Urban Green
Dill is an aromatic herbaceous annual plant grown for its fragrant leaves and seeds. The young leaves are used for cooking purposes whilst seeds are used as a condiment in delicacies. It's a source of vitamin C, an important antioxidant that helps your body to resist infection. It's also a good source of fiber, folate, calcium, riboflavin, manganese, and iron.
Enter your delivery pincode to check on product delivery
Garden Care
---
Germination Instructions
Sow the seeds directly into soil placed in pots or growbags.
Ensure that the planters/pots/growbags used are at least 6 inches deep.
The seeds germinate 5-8 days after sowing.
Maintenance Instructions
It takes 20-25 days for leaves to reach the point of harvest.
The seeds are viable for 3 to 10 years.
After harvesting, the seed heads are placed upside down in a paper bag and left in a warm, dry place for a week. The seeds then separate from the stems easily for storage in an airtight container.
Features
| | |
| --- | --- |
| CATEGORIES | DESCRIPTION |
| Botanical Name | Anethum Graveolens |
| Climate | Hot |
| Usage | Food |
| Height | 40 to 60 cm |
| Growth | Fast |
| Propagation | Seed |
| Pests & Diseases | Aphids and beneficial insects |
| Country of Origin of Product | India |
| Quantity | 8 g seeds |
| Origin | Europe, Asia |