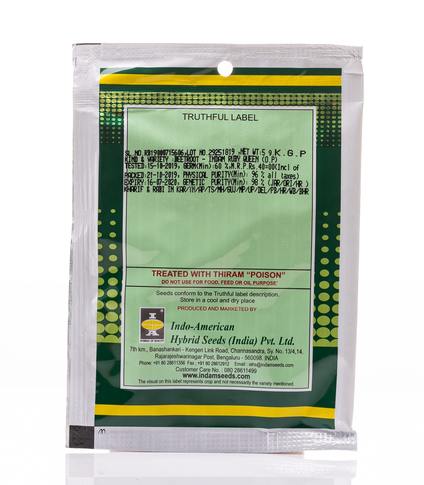 DISCLAIMER Images may differ from the actual product
Enter your delivery pincode to check on product delivery
Beetroot Ruby Queen Seeds
Indo American Hybrid Seeds
This plant is grown for its taproots and leaves. It's a rich source of antioxidants and anthocyanins. They make for a great combination vegetables for salads and juices. Its consumption helps in reducing blood pressure and improves muscle endurance. It's known for its bushy, vigorous, broad leaves and the root is round, uniform and crimson red in colour. The average fruit weight of this high yielding hybrid is 200 gms.
Enter your delivery pincode to check on product delivery
Garden Care
---
Germination Instructions
Sow the seeds directly into soil placed in pots or growbags (5-6 seeds each).
Ensure that the planters/pots/growbags used are at least 12 inches deep.
The seeds germinate 9-11 days after sowing.
Maintenance Instructions
It takes 55 days for the first harvest after sowing.
Use organic rich soil for better growth.
Don't overwater or the plant will be damaged.
Features
| | |
| --- | --- |
| CATEGORIES | DESCRIPTION |
| Botanical Name | Beta vulgaris |
| Quantity | 10 seeds |
| Origin | Middle East |
| Climate | Sub-tropical, Tropical |
| Usage | Food, Colourant, Medicines |
| Height | 30-90 cm |
| Growth | Moderate |
| Propagation | Seeds, Roots |
| Pests & Diseases | Lygus, Moths |
| Country of Origin of Product | India |