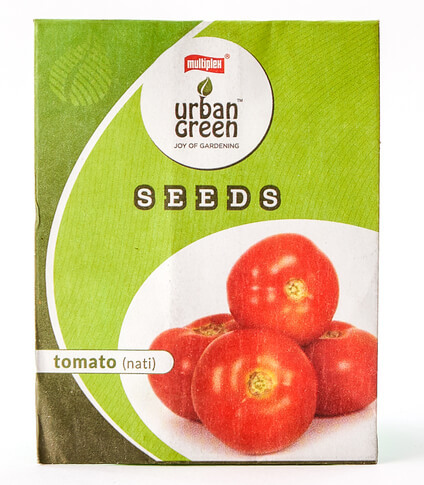 DISCLAIMER Images may differ from the actual product
Enter your delivery pincode to check on product delivery
Tomato Nati Seeds
Urban Green
Consumed in different ways, raw or cooked, in myriad dishes, sauces, salads and drinks, tomato is the most versatile of them all. While tomato is a fruit, botanically classified as a berry — it's commonly used as a vegetable ingredient. It's a great source of Vitamin A and C as well as the umami flavour. This variety is a local one.
Enter your delivery pincode to check on product delivery
Garden Care
---
Germination Instructions
Sow the seeds directly into soil placed in pots or growbags (3-4 seeds each) or through transplanting (2 plants each).
Ensure that the planters/pots/growbags used are at least 12 inches deep.
The seeds germinate 4-8 days after sowing or transplanting 1 month old sapling.
Maintenance Instructions
It takes 4-5 weeks for the first harvest after transplanting.
Use organic rich soil for better growth.
It can yield harvest upto 4 months if maintained well.
Features
| | |
| --- | --- |
| CATEGORIES | DESCRIPTION |
| Botanical Name | Solanum lycopersicum |
| Quantity | 25 seeds |
| Origin | Central and South America |
| Climate | Sub-tropical, Tropical |
| Usage | Food, Skincare |
| Height | 60-90 cm |
| Growth | Moderate |
| Propagation | Cuttings |
| Pests & Diseases | Whiteflies, Flea beetles |
| Country of Origin of Product | India |